Change Is Coming:
An Information & Engagement Session on Keewatinohk Inniniw Minoayawin – Flin Flon
When: Wednesday, September 27th, 2023 @ 5PM
Where: Victoria Inn Northern Room, Flin Flon MB; 160 Hwy 10-A North
Keewatinohk Inniniw Minoayawin Inc. is proud to bring our informative and interactive presentation to Flin Flon! 
Learn about KIM's mission to transform and transfer health services into a First Nations-led, barrier-free, trauma-informed, and anti-racist entity. Our community-based Healthcare Transformation Facilitators will be present to answer your questions, listen to your feedback, insight, and ideas, and talk about their important work as well as our progress so far. Your engagement and contributions are critical to the journey to health-related sovereignty!
* Please note this event is open to registered members of KIM-supported communities. These 23 communities are listed below and on the "Our Map" page. We are unable to provide travel arrangements, but please note future events in Northern Manitoba will be announced on our social media and website.*
To ensure we have enough resources for all in attendance, we kindly ask that you RSVP using the means below.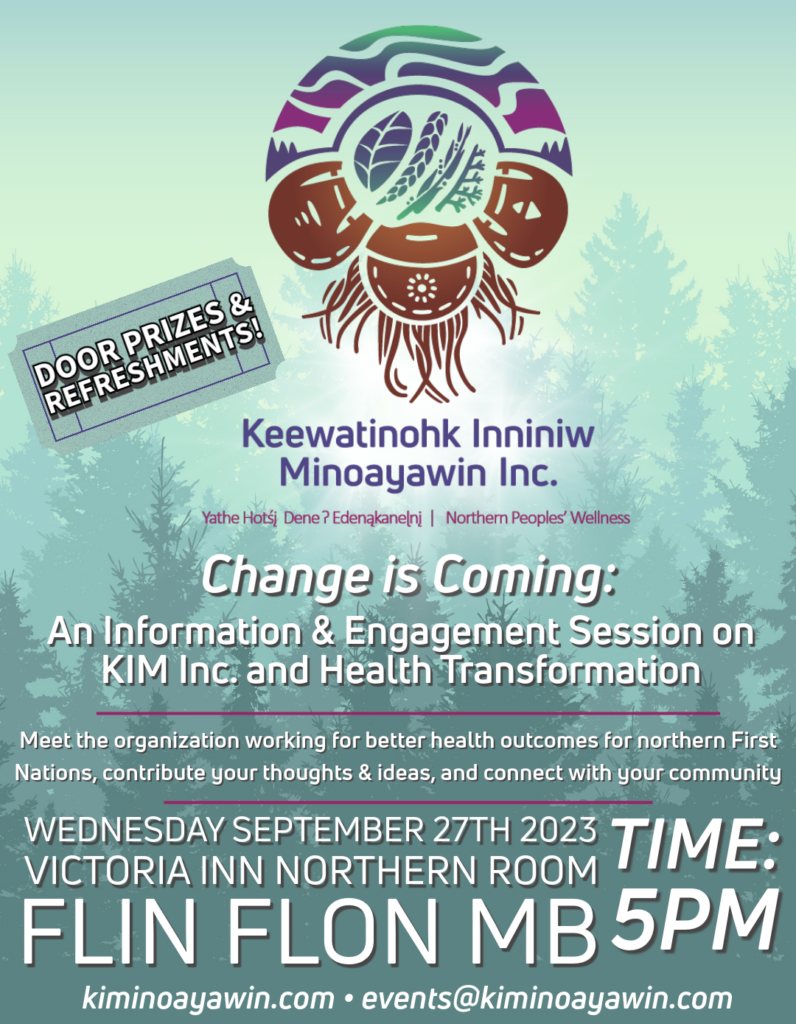 We are pleased to extend an invite to members of the following KIM-supported First Nations:
Barren Lands First Nation

Bunibonibee Cree Nation

Chemawawin Cree Nation

Fox Lake Cree Nation

God's Lake First Nation

Manto Sipi Cree Nation

Marcel Colomb First Nation

Mathias Colomb Cree Nation

Misipawistik Cree Nation

Mosakahiken Cree Nation

Nisichawayasihk Cree Nation

Northlands Dene First Nation
Norway House Cree Nation
Opaskwayak Cree Nation
O-Pipon-Na-Piwin Cree Nation
Pimicikamak Cree Nation
Sapotaweyak Cree Nation
Sayisi Dene Denesuline Nation
Shamattawa First Nation
Tataskweyak Cree Nation
War Lake First Nation
Wuski Sipihk Cree Nation
York Factory First Nation