Congratulations to Anita Crate – Winner of the "Award of Excellence"
Anita Crate, RN, has received the "Award of Excellence: Clinical Nursing Practice – Northern Care" at the 2023 Celebration of Excellence & AGM hosted by the Association of Regulated Nurses of Manitoba (ARNM) on May 11, 2023 in Portage La Prairie.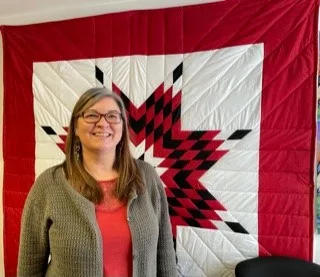 Anita, a First Nations nurse from Pimicikamak Cree Nation in northern Manitoba, has over 29 years of experience in various nursing capacities and has extensive experience working in remote and isolated First Nations in northern Manitoba. She is currently employed as the Tribal Nursing Officer for the Keewatin Tribal Council, representing 11 remote and isolated First Nations communities in northern Manitoba.

Anita was nominated for her dedication and commitment in working towards the safety, health, and wellness of First Nations communities in northern Manitoba. Her passion resulted in the high vaccination rates seen in the First Nations population and the containment of outbreak situations seen during the second wave in the Manitoba region.

Anita played a significant leadership role in the deployment of COVID-19 Rapid Response Teams and the rollout of the COVID-19 Immunization Campaign. She represented the Keewatin Tribal Council on numerous committees developed to respond to the COVID-19 pandemic crisis, where she helped to develop a public health response plan with key messages, personal protective equipment, referral to alternative isolation accommodation, contact tracing and management, as well as in the role out of the vaccine and redeployment of the vaccination and rapid response teams.

Lead by the Tribal Nursing Officer, the Keewatin Tribal Council nurses assisted in the rollout and vaccination of the eleven First Nations communities within their region. First Nations elders, health care professionals, and Personal Care Homes were prioritized to receive COVID-19 vaccines. Over the course of a few months, the nurses successfully managed to vaccinate over 80% of the "on-reserve" population with one or two doses.

Keewatinohk Inniniw Minoayawin Inc would like to congratulate Anita on her well-deserved award and thank her for everything she has done to better the lives of our people. Her dedication to delivering exceptional patient and family-centered care, using evidence-based practices to effect positive change, and fostering interdisciplinary collaboration make her a true leader and role model in the nursing profession. Congratulations, Anita!