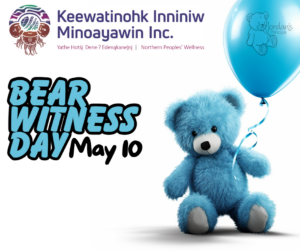 May 10th is Bear Witness Day
May 10th marks a significant date in the history of Jordan's Principle at the Canadian Human Rights Tribunal (CHRT), a child-first principle and legal rule that honours the memory of Jordan River Anderson. Jordan, a First Nations child from Norway House Cree Nation in Manitoba, suffered from complex medical needs and was unjustly held in the hospital for over two years. Sadly, he passed away at the age of five, without ever experiencing a day in a family home. Jordan's favourite toy, a teddy bear, has become a powerful symbol in the fight against discrimination of First Nations children, youth, and their families.
After a decade-long battle at the Tribunal, the First Nations Child and Family Caring Society used Jordan River Anderson's tragic case and a history of racism as evidence to finally prove the existence of discrimination. The federal government was ordered to make amends, and on May 10th, 2016, the CHRT issued the first of several compliance orders. This date is also significant as it is Spirit Bear's birthday, the iconic mascot and symbol of Jordan's Principle and the ruling.
Bear Witness Day on May 10th is a poignant reminder for all of us to "bear witness" to ensure that First Nations children receive the essential services and support they require, exactly when they need them. It is a day for reflection, remembrance, and action towards reconciliation, a shared responsibility for all.
Manitoba is currently the only province that has initiated the process of enacting Bear Witness Day as a recognized holiday on May 10th. As a result, CPSM recognizes the importance of this day and aims to raise awareness of its significance.
To learn more about Jordan's Principle, please visit https://fncaringsociety.com/jordans-principle. You can also contact [email protected] to speak with our knowledgeable Jordan's Principle staff.